The Aroma Mission: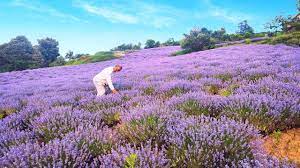 While observing the first National Start-up Day, Union Minister Dr. Jitendra Singh said that "Purple Revolution" is Jammu & Kashmir's contribution to "Start-ups India", an initiative that was launched by Prime Minister Narendra Modi in 2016.
The Aroma Mission launched by the Union Ministry of Science & Technology through the Council of Scientific & Industrial Research (CSIR), has led to the well-known "Purple Revolution" in India.
The CSIR had, to begin with introduced high-value essential oil bearing lavender crop through its Jammu based laboratory, Indian Institute of Integrative Medicines (IIIM) for cultivation in districts Doda, Kishtwar, Rajouri and later also in the other districts including Ramban, Pulwama, etc.
In addition to IIIM, CSIR-IHBT, CSIR-CIMAP, CSIR-NBRI and CSIR-NEIST are also now participating in the Aroma Mission.