MIST Submarine Cable System: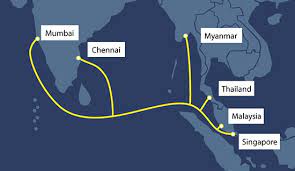 The Ministry of Environment, Forest and Climate Change recommended MIST (Myanmar/Malaysia-India-Singapore Transit) Submarine Cable System for Coastal Regulation Zone (CRZ) clearance.
This will be the 17th such Optical Fibre Cable System to land in Mumbai and is expected to be ready for service in 2023
MIST is an international submarine cable communication network, traversing the undersea to connect India with other Asian countries such as Myanmar, Thailand, Malaysia and Singapore.
It is an 8,100km-long undersea transnational fibre optic cable system connecting Mumbai to Singapore, via Chennai.
The cable system will terminate in Mumbai at Versova beach.
Of the total length of the international undersea cable system, 523.50 km will be laid along the Tamil Nadu coastal waters about 12 nautical miles offshore and about 202.06 km in the CRZ boundary of Maharashtra.
MIST cable system will provide secure, reliable, robust and affordable telecom facilities in Asia.
It will boost telecom connectivity between India and other Asian countries, namely Myanmar, Thailand, Malaysia and Singapore.
This is a project of immense importance to global communications and will have a minimal footprint on Mumbai's coastal environment.
It would also help avoid conflict with various stakeholders considering the increasing number of international cable landing on the Chennai coast.