UN Bonn Summit: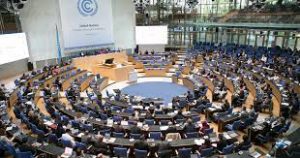 Delegates at a UN conference in Bonn have adopted a new global framework aimed at reducing environmental risks associated with chemicals and waste.
This framework, known as the Global Framework on Chemicals, includes 28 targets designed to enhance responsible management of chemicals and waste throughout their lifecycle.
The Bonn Declaration was adopted at the summit, aiming to prevent exposure to harmful chemicals, phase out the most dangerous ones when appropriate, and enhance the safe management of such chemicals where necessary.
The declaration also encourages countries to support the transition to circular economies and develop substitutes for harmful chemicals to safeguard health, and the environment, reduce waste, and promote recycling efforts.