Modi Van: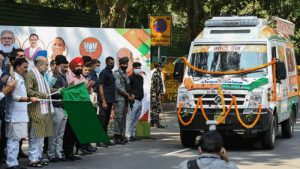 Home Minister Amit Shah flagged off Modi Van under the 'Seva Hi Sangathan' programme to commemorate Prime Minister Narendra Modi completing 20 years as the Head of Government.
Five Mobile Medical Vans will operate in five Assembly Constituencies in Kaushambi district of Uttar Pradesh.
They will work under the aegis of Kaushambi Vikas Parishad run by BJP's National Secretary Vinod Sonkar.
The Modi van will consist of a 32-inch television and a high-speed internet service which will broadcast PM Modi's monthly radio broadcast 'Mann Ki Baat'.
The van will also consist of telemedicine.
The van has is equipped with a machine that can test 39 blood samples in one go.
This van will be used to administer the oath to the people of the village for cleanliness and plastic-free.
PM Modi completed 20 years as the head of a government, including over 13 years as Gujarat chief minister this month.
He served as Gujarat CM between 2001 and 2014.