The Hindu Succession Act, 1956: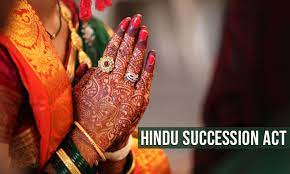 The Supreme Court asked the Centre to respond to a petition challenging provisions in the Hindu Succession Act as gender discriminatory.
The petition filed by Kamal Anant Khopkar said Sections 15 and 16 of the Act, which deals with inheritance of self-acquired and inherited properties of Hindu women, "unveils deeply rooted patriarchal ideology".
The petition draws attention to Section 15 of the 1956 Act which actually mandates how the husband's heirs have the first right over the self-acquired property of a woman who dies intestate. That is, the husband's family comes first in the line of inheritance.
The Hindu Succession Act, 1956 is an Act of the Parliament of India enacted to amend and codify the law relating to intestate or unwilled succession, among Hindus, Buddhists, Jains, and Sikhs.
The Act lays down a uniform and comprehensive system of inheritance and succession into one Act.
Parts of this Act was amended in December 2004 by the Hindu Succession (Amendment) Act, 2005.