National Commission For Protection Of Child Rights (NCPCR):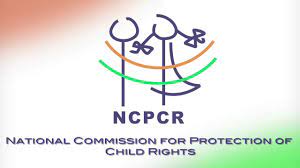 The National Commission for Protection of Child Rights (NCPCR) has asked the West Bengal chief secretary to get all children care institutions (CCIs) registered under the Juvenile Justice Act 2015.
Citing that it was mandatory for all CCIs to comply with the JJ Act, the NCPCR has sought an action taken report from the state within 10 days.
About NCPCR:
Set up in March 2007 under the Commission for Protection of Child Rights Act, 2005.
It works under the administrative control of the Ministry of Women & Child Development.
The Child is defined as a person in the 0 to 18 years age group.
The Commission's Mandate is to ensure that all Laws, Policies, Programmes, and Administrative Mechanisms are in consonance with the Child Rights perspective as enshrined in the Constitution of India and also the UN Convention on the Rights of the Child.
This commission has a chairperson and six members of which at least two should be women.
All of them are appointed by Central Government for three years.
The maximum age to serve in commission is 65 years for Chairman and 60 years for members.
As per the Section 27(1) of Juvenile Justice (Care and Protection of Children) Act, 2015 (JJ Act), Child Welfare Committees (CWCs) are to be constituted by State Government for every district, for exercising the powers and to discharge the duties conferred on such Committees in relation to children in need of care and protection under JJ Act, 2015.
The Committee shall consist of a Chairperson, and four other members as the State Government may think fit to appoint, of whom atleast one shall be a woman and another, an expert on the matters concerning children.