National Epilepsy Day 2023: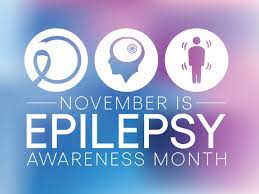 National Epilepsy Day is celebrated every year in India on 17th November to raise awareness about the brain disorder and bust myths surrounding the disease.
Epilepsy is a brain disorder that can cause seizures due to abnormal brain activity or temporary changes in the brain's electrical functioning.
The brain produces orderly electrical impulses along nerve cell networks, but in epilepsy, this balance is disrupted thus it impacts consciousness, movements, or sensations.
According to the World Health Organization (WHO), around 50 million people worldwide are affected by epilepsy and India accounts for nearly 10-20% of the global burden of epilepsy.
Epileptic seizures are broadly categorized into focal and generalized seizures based on the location of abnormal brain activity.
Focal seizures may cause brief emotional changes, involuntary movements, and symptoms like dizziness.
Generalized seizures present varied symptoms including staring, muscle jerking, loss of control, twitches, and sudden loss of consciousness.
Every year the second Monday of February is observed as International Epilepsy Day.