Innovation Handshake : India And US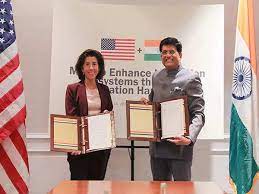 India and the United States have officially launched the "Innovation Handshake" agenda, a collaborative effort aimed at deepening bilateral ties in technology.
The "Innovation Handshake" signals a commitment to strengthen the start-up ecosystem and promote cooperation in Critical and Emerging Technologies.
The concept, developed under the US-India Commercial Dialogue, aims to connect dynamic start-up ecosystems, address regulatory hurdles, and promote innovation and job growth, especially in emerging technologies.
The initiative focuses on priority sectors identified under the US-India Initiative for Critical and Emerging Technology (iCET).
The goal is to foster a tech partnership and open up opportunities for collaboration while addressing challenges in these sectors.