Judicial Review In Matters Related To National Security: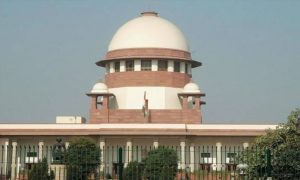 Supreme Court has made few observations regarding the applicability of judicial review in matters related to 'National Security' of the Country.
The Court was responding to submissions made by Solicitor-General for the Centre, in the Pegasus snooping case.
The government had refused the court's repeated advice to file a detailed affidavit responding to the snooping allegations, blankly stating that "the disclosure of certain facts might affect the national security and defence of the nation".
Observations made by the Court:
The state cannot keep a secret from the court merely on the bogey of "national security" and expect the judiciary to remain a "mute spectator".
The claim has to be backed by evidence to prove that the disclosure of the information sought by the court would affect national security concerns.
National security cannot be the bugbear that the judiciary shies away from, by virtue of its mere mentioning.
The court accepted that judicial review in national security matters was limited. However, the court's delicacy did not licence the Government to call for an "omnibus prohibition" against judicial review.
The mere invocation of national security by the state does not render the court a mute spectator.
Judicial Review:
Judicial review is the power of Judiciary to review any act or order of Legislative and Executive wings and to pronounce upon the constitutional validity when challenged by the affected person.
The power of Judicial Review comes from the Constitution of India itself (Articles 13, 32, 136, 142 and 147 of the Constitution).
The power of judicial review is evoked to protect and enforce the fundamental rights guaranteed in Part III of the Constitution.
Article 13 of the Constitution prohibits the Parliament and the state legislatures from making laws that "may take away or abridge the fundamental rights" guaranteed to the citizens of the country.
The provisions of Article 13 ensure the protection of the fundamental rights and consider any law "inconsistent with or in derogation of the fundamental rights" as void.