National Family Health Survey (NFHS-5):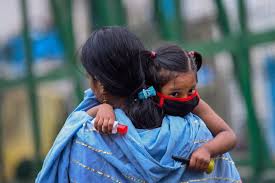 Union Minister for Health and Family Welfare, Dr. Mansukh Mandaviya released the National Report of the fifth round of National Family Health Survey (NFHS-5).
Key results from NFHS-5 National Report:
The Total Fertility Rates (TFR), an average number of children per women, has further declined from 2.2 to 2.0 at the national level between NFHS-4 & 5.
There are only five States in India, which are above replacement level of fertility of 2.1. They are Bihar (2.98), Meghalaya (2.91), Uttar Pradesh (2.35), Jharkhand (2.26) Manipur (2.17).
Overall Contraceptive Prevalence Rate (CPR) has increased substantially from 54% to 67% in the country.
Institutional Births have increased substantially from 79 percent to 89 percent in India.
The level of stunting among children under 5 years has marginally declined from 38 to 36 percent for India since the last four years.