National Security Advisers (NSAs) Of India, The US, And The UAE: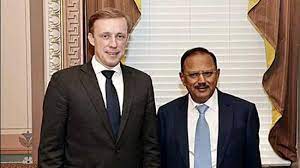 The Kingdom of Saudi Arabia hosted a special meeting of the National Security Advisers (NSAs) of India, the US, and the UAE.
The discussions aimed to strengthen relations and ties between the countries in a way that enhances growth and stability in the region.
The meeting focused on regional initiatives on infrastructure.
The meeting sought to advance their shared vision of a more secure and prosperous Middle East region interconnected with India and the world.
Among the projects discussed, a plan to connect Gulf countries via a railway network and connect to India via shipping lanes from "two ports" in the region is highlighted.
This is meant to provide a counter to China's Belt and Road initiative and other inroads in the region.
The idea for the initiative came up during talks held over the past 18 months by the I2U2.
The I2U2 Quad, works on connecting "South Asia to the Middle East to the United States in ways that advance economic technology and diplomacy".