Wayanad Wildlife Sanctuary : Human Animal Conflict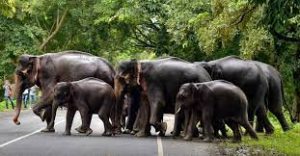 A Human-Animal Conflict occurred where a local man was attacked by an Elephant and a herd of elephants raided a field of 500 plantains.near Wayanad Wildlife Sanctuary, Kerala.
Human-animal conflict has become a serious wildlife management problem in Kerala in the last few years.
People living on the fringes of reserve forests and sanctuaries have a heightened sense of insecurity now.
Human-Animal Conflict refers to struggles that arise when the presence or behavior of wildlife poses actual or perceived direct, recurring threats to human interests or needs, often leading to disagreements between groups of people and negative impacts on people and/or wildlife.
Causes: Human population expansion, habitat degradation and fragmentation, land use transformation and rising densities of livestock in protected areas are considered as the major causes of Human-Wildlife conflict.
Wayanad Wildlife Sanctuary:
Located in Kerala, Wayanad Wildlife Sanctuary (WWS) is an integral part of the Nilgiri Biosphere Reserve.
It was established in 1973.
Nilgiri Biosphere Reserve was the first from India to be included in the UNESCO designated World Network of Biosphere Reserves (designated in 2012).
Wayanad Wildlife Sanctuary is contiguous to the tiger reserves of Nagerhole and Bandipur of Karnataka and Mudumalai of Tamil Nadu.
Kabini river (a tributary of Cauvery river) flows through the sanctuary.
Elephant, Gaur, Tiger, Panther,Sambar, Spotted deer, Barking deer, Wild boar, Sloth bear, Nilgiri langur, Bonnet macaque, Common langur, Wild dog, common otter, Malabar giant squirrel etc are the major mammals.