Forest Fire At Navegaon-Nagzira Tiger Reserve (NNTR) In Maharashtra: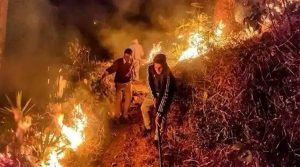 Three laborers were killed and two others injured during an operation to douse a forest fire at Navegaon-Nagzira Tiger Reserve (NNTR) in Maharashtra.
It is situated in the Gondia and Bhandara districts of Maharashtra.
Gondia District shares common boundaries with the state of Madhya Pradesh and Chhattisgarh on the north and eastern side respectively.
Strategically, the Tiger Reserve is located in the heart of the central Indian Tiger landscape which contributes almost one-sixth of the total tiger population of the country.
It was notified as to the 46th Tiger Reserve of India in December 2013.
NNTR comprised the notified area of Nawegaon National Park, Nawegaon Wildlife Sanctuary, Nagzira Wildlife Sanctuary, New Nagzira Wildlife Sanctuary, and Koka Wildlife Sanctuary.
NNTR has connectivity with the major tiger reserves in Central India like,

Kanha and Pench tiger reserve in Madhya Pradesh,
Tadoba-Andhari Tiger Reserve in Maharashtra,
Indravati Tiger Reserve in Chhattisgarh,
Indirectly with the Kawal and Nagarjuna Sagar in Telangana and Andhra Pradesh and, Achanakmar Tiger reserve in Chhattisgarh.
It is also connected to important tiger-bearing areas like the Umred-Karhandla sanctuary and Brahampuri Division (Maharashtra).