Draft National Air Sports Policy: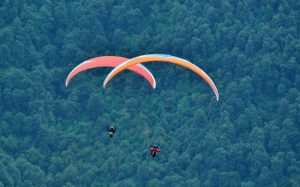 The government has released a draft national policy for air sports.
Highlights of the Policy:
Two-tier governance structure: The policy proposes a two-tier governance structure for air sports in the country, which will include an apex governing body called the Air Sports Federation of India (ASFI) and associations for each air sport.
The ASFI will be an autonomous body under the Ministry of Civil Aviation and will represent India at the Lausanne-headquartered Fédération Aéronaautique Internationale (FAI) and other global platforms related to air sports.
It will provide governance over various aspects of air sports, including regulation, certification, competitions, awards and penalties, etc.
Rules and Functions of Each air sports association: Lay down its safety standards for equipment, infrastructure, personnel and training, and specify the disciplinary actions to be taken in case of non-compliance. Inability to do so may lead to penal action by the ASFI.
It will cover activities like aerobatics, aeromodelling, amateur-built and experimental aircraft, ballooning, drones, gliding, hang gliding, paragliding, microlighting, paramotoring, skydiving, and vintage aircraft.
Registration: It requires entities providing these services and their equipment to be registered, as well as be liable for penalties.
Indian airspace is divided into red, yellow and green zones, according to the DigitalSky platform of the Directorate General of Civil Aviation, which allows air sports enthusiasts to rely on the easily accessible map for guidance. Operations in red zones require a permission from the central government.
Control zone: Popular air sports attractions in the country such as Bir Billing in Himachal Pradesh, Gangtok in Sikkim, Hadapsar in Maharashtra and Vagamon in Kerala can be declared as a "control zone" for air sports in order to ensure the safety of other manned aircraft.