New Excavations At Delhi's Purana Qila: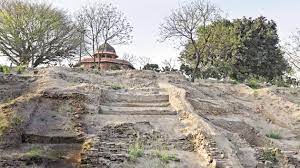 New excavations at Delhi's Purana Qila (Old Fort) have uncovered evidence of a pre-Mauryan era settlement.
The ongoing excavation aims to establish a complete chronology of the site and provide further insights into the ancient city of Indraprastha.
The site is considered significant as it may have been the location of Indraprastha mentioned in the Mahabharat.
The findings include pottery shards dating back to around 1200 BC to 600 BC, a 2,500-year-old ring well from the Mauryan era, and a four-room complex believed to be 2,300 years old.
Nine cultural levels, representing different historical periods including the pre-Mauryan period
The excavations have also revealed coins, seals, and other artefacts, indicating the site's role as a trade centre.
The stone image of Vaikuntha Vishnu, a terracotta plaque of Gaja Laxmi, a stone image of Ganesha, terracotta figurines of humans and animals, beads of various stones, a bone needle etc.
Purana Qila is the oldest fort in Delhi, located on the banks of the Yamuna River.
It is believed to have been built by the Pandavas for their kingdom Indraprastha.
Mughal Influence Renovated by Emperor Humayun in 1533, it took five years to complete.
Dinpanah The fort was constructed within Dinpanah, a small city in Delhi.
Sher Shah Suri's Reign Sher Shah Suri captured the fort in 1540 and made several additions, naming it Shergarh.