Nirdeshak : Second Of The Four Survey Vessels Project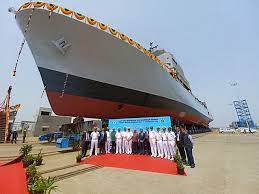 'Nirdeshak', the second of the four Survey Vessels (Large) (SVL) Project being built by GRSE in collaboration with L&T shipbuilding for Indian Navy was launched on 26 May 2022 at Kattupalli, Chennai.
The ship has taken its name from erstwhile Nirdeshak which was also an Indian Naval Survey ship and was decommissioned after 32 years of glorious service in Dec 2014.
Part construction of three out of four ships of SVL is being undertaken at L&T, Kattupalli as part of collaborative approach between GRSE and L&T shipbuilding.
The contract for building four SVL ships was signed between MoD and Garden Reach Shipbuilders & Engineers (GRSE), Kolkata on 30 Oct 2018. The first of class ship 'Sandhayak' was launched on 05 Dec 2021 at GRSE, Kolkata.
The SVL ships will replace the existing Sandhayak Class survey ships with new generation hydrographic equipment to collect oceanographic data.