Jenin Refugee Camp : Israel Launched a Military Operation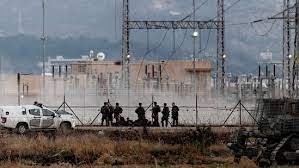 Israel launched a military operation in the Jenin Refugee Camp in the occupied West Bank, resembling wide-scale operations carried out during the second Palestinian uprising (2000-2005).
The operation aimed to destroy and confiscate weapons and targeted specific militant groups.
It involved around 2,000 soldiers and utilized military drones for strikes.
The Jenin camp has historically been a stronghold for armed struggle against Israeli occupation and a focal point for violence.
Jenin Refugee Camp is a Palestinian refugee camp located in the northern West Bank, specifically in the city of Jenin.
Established in 1953, the camp was created to accommodate Palestinian refugees who were displaced during the 1948 Arab Israeli war, also known as the Nakba .
The camp has also been a site of frequent clashes between Palestinian militants and Israeli forces over the years.
It gained particular attention during the second Palestinian uprising, also known as the Al-Aqsa Intifada (2000-2005), when it became a stronghold for armed resistance against Israeli occupation.
Jenin Refugee Camp remains a symbol of the Palestinian refugee issue and the ongoing Israeli-Palestinian conflict.