Northern/Interaction-2023: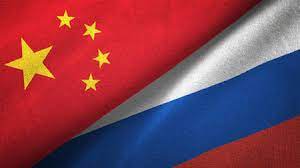 A Chinese naval flotilla recently set off to join Russian naval and air forces in the Sea of Japan to participate in the "Northern/Interaction-2023" military drills.
Northern/Interaction-2023 military drills is organized by the Chinese People's Liberation Army Northern Theatre Command in the central Sea of Japan.
Sea of Japan (East Sea) is a marginal sea of the western Pacific Ocean.
It is located in Eastern Asia that is bounded by Japan and Sakhalin Island to the east and by Russia and Korea on the Asian mainland to the west.
The event marks Russia's second time participating in the PLA annual strategic drills, and also a first that Russia has dispatched both naval and air forces to participate in similar events.
The drills are themed "safeguarding the safety of strategic maritime routes".
In August 2021, Russia participated in the "Western/Interaction-2021" exercise held at Northwest China's Ningxia Hui Autonomous Region, which marked the first time that China invited foreign forces to participate in its annual strategic exercises in its territory.
"Northern/Interaction-2023" drills are organized by the PLA Northern Theatre Command, while PLA forces participating in the previous "Western/Interaction-2021" exercise were mainly composed of forces from the Western Theatre Command.