NOTAM(Notice To Air Missions):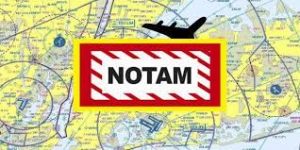 Thousands of flights were grounded in the US after a major glitch in the computer system. The flights were grounded due to the failure of a key pilot notification system called Notice to Air Missions (NOTAM).
The Federal Aviation Administration (FAA) said that its Notice to Air Missions system, or NOTAM, had failed and was not processing new information.
The system, which dates to the middle of the last century, gives pilots real-time updates on flight conditions.
According to the FAA's website, NOTAM communicates "information essential to personnel concerned with flight operations, but not known far enough in advance to be publicized by other means."
In India, NOTAM or Notice to Airmen are notices distributed by means of telecommunication containing information concerning the establishment, condition or change in any aeronautical facility, service, procedure or hazard, the timely knowledge of which is essential to personnel concerned with flight operations.
Air traffic operations started using NOTAMs in 1947, according to FAA documents.
At the time, the notices were modeled after the Notice to Mariners, which advised ship captains about hazards on the seas.
When it was created, the air-notification system was called "Notice to Airmen."
It was renamed to the more inclusive "Notice to Air Missions" late last year.
NOTAMs used to be telephone-based, with pilots calling dedicated flight service stations for the information, but have now moved online with the advent of the internet.