NSE Nifty 50 : Cross The 20,000 Mark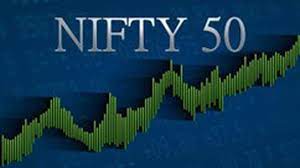 The NSE Nifty 50 recently managed to cross the 20,000 mark for the first time.
NIFTY is a market index introduced by the National Stock Exchange (NSE).
It is a blended word – National Stock Exchange and Fifty coined by NSE.
Nifty was established in 1996 under the name CNX Nifty.
Further, in 2015, it was renamed Nifty 50.
NIFTY 50 is a benchmark-based index and the flagship of NSE.
It represents the performance of the 50 largest and most actively traded stocks listed on the NSE.
These 50 largest companies are from different industrial sectors and collectively represent the Stock Market and Economic Trends of India.
It is one of the two main stock market indices in India, the other being SENSEX, a product of the Bombay Stock Exchange (BSE).
Stock Index:
A stock index is a measurement of the changes that take place in the stock market.
It measures price movement and market performance.
To create an index, one has to group some stocks from a list of stocks with similar characteristics.
This grouping of stocks can be based on the type of industry, total market capitalization, or size of the company.