Nuclear Submarine Alliance: AUKUS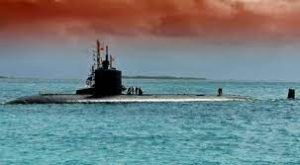 Australia, the US and the UK signed an agreement allowing the exchange of sensitive "naval nuclear propulsion information" between their nations.
It is the first agreement on the technology to be publicly signed since the three countries announced the formation of a defence alliance, AUKUS, to confront strategic tensions in the Pacific where China-US rivalry is growing.
Under the AUKUS deal, Australia would obtain eight state-of-the-art, nuclear-powered but conventionally armed submarines capable of stealthy, long-range missions.
AUKUS
In September 2021, the US announced a new trilateral security partnership for the Indo-Pacific, between Australia, the UK and the US (AUKUS).
The major highlight of this arrangement is the sharing of US nuclear submarine technology to Australia.
Its Indo-pacific orientation makes it an alliance against China's assertive actions in the South China Sea.
It will involve a new architecture of meetings and engagements between the three countries, as well as cooperation across emerging technologies (applied AI, quantum technologies and undersea capabilities).
There is concern that AUKUS could leave a deep scar on US-EU relations and the North Atlantic Treaty Organisation (NATO), and weaken the international coalition in the Indo-Pacific.
NATO was established by the North Atlantic Treaty (also called the Washington Treaty) of 4th April, 1949, by the United States, Canada, and several Western European nations to provide collective security against the Soviet Union.
NATO's primary goals are the collective defence of its members and the maintenance of a democratic peace in the North Atlantic area.
France had cancelled a scheduled meeting of the foreign ministers of Australia, France, and India at the UN.
In the last couple of years, the trilateral has become an important element in the emerging Indo-Pacific architecture. But the cancellation of the meeting is a blow to the trilateral engagement.
It is not clear whether the QUAD and AUKUS will reinforce each other or remain mutually exclusive.
There are some beliefs that the "Anglosphere nations" — which share common cultural and historical ties to the UK — inspire more confidence in each other.
QUAD is a grouping of India, USA, Australia and Japan which aims to safeguard the interests of democratic nations in the Indo-Pacific region and address global challenges.