Gig Workers: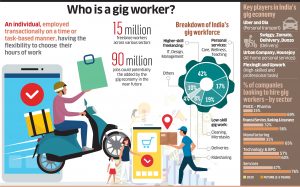 The surge in demand for gig workers, particularly in the shared services and logistics segments, in the aftermath of the Covid-19 pandemic led to mushrooming of job discovery platforms.
A gig economy is a free market system in which temporary positions are common and organisations contract with independent workers for short-term engagements.
According to a report by Boston Consulting Group, India's gig workforce comprises 15 million workers employed across industries such as software, shared services and professional services.
An estimated 56% of new employment in India is being generated by the gig economy companies across both the blue-collar and white-collar workforce.
Different Collar Jobs
Blue-Collar Worker: It is a member of the working class, who performs manual labour and earns an hourly wage.
White-Collar Worker: It is a salaried professional, typically referring to general office workers and management.
Gold-Collar Worker: It is used to refer to highly-skilled knowledge people who are highly valuable to the company.

Example: Lawyers, doctors, research scientists, etc.

Grey-Collar Worker: It refers to the balance of employed people not classified as white or blue-collar.

Although grey-collar is something used to describe those who work beyond the age of retirement. Example: Firefighters, police officers, health care professionals, Security Guards, etc.

Green-Collar Worker: It is a worker who is employed in the environmental sectors of the economy.

Example: People working in alternative energy sources like solar panels, Greenpeace, World Wide Fund for nature, etc.

Pink-Collar Worker: It is employed in a job that is traditionally considered to be women's work and is often low-paid.
Scarlet-Collar Worker: It is a term often used to refer to people who work in the pornography industry, especially women entrepreneurs in the field of internet pornography.
Red-Collar Worker: Government workers of all types.
Open-Collar Worker: It is a worker who works from home, especially via the internet.