Nuclear Weapons: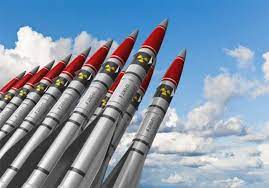 Five global nuclear powers pledged to prevent atomic weapons spreading and to avoid nuclear conflict, in a rare joint statement ahead of a review of a key nuclear treaty later this year.
"We believe strongly that the further spread of such weapons must be prevented," said permanent UN Security Council members China, France, Russia, the U.K. and U.S.
The statement was issued after the latest review of the Treaty on the Non-Proliferation of Nuclear Weapons (NPT) — which first came into force in 1970 — was postponed from its scheduled date of January 4 to later in the year due to the COVID-19 pandemic.
The statement comes as tensions between Russia and the United States have reached heights rarely seen since the Cold War over a troop build-up by Moscow close to the Ukrainian border.
That has raised fears that the Kremlin is planning a new attack on its pro-Western neighbour.
The rise of China meanwhile has also raised concerns that tensions with Washington could lead to conflict, notably over the island of Taiwan.
Beijing considers Taiwan part of its territory and has vowed to one day seize it, by force if necessary.