Operation SADBHAVANA: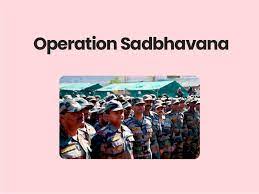 Operation Sadbhavana (Goodwill) is an unique humane initiative undertaken by Indian Army in the State of Jammu & Kashmir to address aspirations of people affected by scrooge of terrorism, sponsored and abetted by Pakistan.
The unique operation has provided succor to a large section of population of the State.
As part of a grand design an insidious attempt was made by terrorist 'tanzeems' to systematically subvert Government officials, target property, public services and symbols of State authority in order to inflict hardship and alienate local population from the national fabric.
It was in these challenging operational environment that the Indian Army as part of the overall Counter Terrorism strategy decided to use its footprint to wrest the initiative back from the terrorists, re-integrate the 'Awaam' (Locals) with the national mainstream and blunt the proxy war abetted by Pakistan.
In a situation where the Army was looked upon as the last bastion which could provide relief to the masses affected by terrorism, Indian army swiftly launched 'Operation Sadbhavana' with a modest budget of Rupees four crores in 1998.
The timely intervention was carried out with an aim of supplementing efforts of the State administration in restoring public services, rebuilding infrastructure and creating a conducive environment for development in the State.
In the intervening years since 1998 the Army has spent in excess of Rupees 550 crores on various people centric development activities in the State.