Daily Current Affairs for Government Exams:
Today Current Affairs: 15th June 2020 for UPSC IAS exams, State PSC exams, SSC CGL, State SSC, RRB, Railways, Banking Exam & IBPS, etc
Contents:
New Drug for Amoebiasis:
Behaviour Change Model for living with Covid-19
Jet Zero' plan:
'Draft Electricity (Amendment) Bill, 2020:
.Second Constitution Amendment Bill, (Nepal):
Other important current affairs.
1.New Drug for Amoebiasis: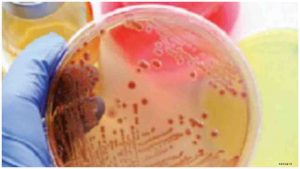 A team of researchers from the Jawaharlal Nehru University (JNU) has developed new drug molecules against the protozoa that causes amoebiasis.
Amoebiasis:
It is a parasitic infection of the colon with the amoeba Entamoeba histolytica.
According to WHO, Entamoeba histolytica is the third-leading cause of morbidity and mortality due to parasitic disease in humans.
This protozoan is anaerobic or micro-aerophilic in nature such that it cannot survive high concentrations of oxygen.
However, during infection, it faces a high surge of oxygen inside the human body. The organism synthesizes large amounts of cysteine to counter oxidative stress.
It spreads through drinking or eating uncooked food, such as fruit, that may have been washed in contaminated local water.
Symptoms:

Pain areas: in the abdomen
Gastrointestinal: blood in stool, diarrhea, or flatulence
Whole-body: fatigue, fever, or loss of appetite
Also common: weight loss

Treatment consists of self-care and antiparasitics.]
2.Behaviour Change Model for living with Covid-19: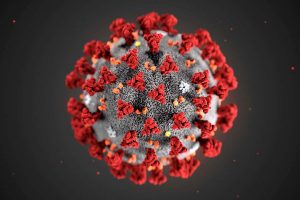 Meghalaya has issued a new health protocol saying that it would consider everybody as an asymptomatic (showing no symptoms) carrier of Covid-19 'by default' because it is the best way to prevent the threat of community transmission with migrants returning to the state from different zones.
Behaviour Change Model for living with Covid-19:
The pandemic has resulted in two kinds of fear: fear for the loss of life and fear for the loss of livelihood, that is why the state wants to build a system through which people can protect themselves and carry out their livelihood at the same time.
People have to live with the coronavirus now and that could be achieved through what psychologists call the 'locus of control', or the extent to which one feels control over events in their lives.
As soon as people think that they could be Covid-19 positive, their entire behaviour changes and they become more cautious and feel responsible for their actions and thus help to reduce the risk of community transmission.
To implement this, there is a four-pronged plan that suggests testing everyone who enters the state, isolating them, stressing on behavioural change and finally training them.
Everyone in the state shall be treated as Category A patients unless they are tested on a continuous basis.
This implies living with the assumption that every person could be an asymptomatic, mobile carrier of the Covid-19 virus, with a probability of transmitting the virus to others unknowingly.
The Category A patients will have to follow three non-negotiable practices: compulsory mask-wearing, hand hygiene and social distancing.
For that, the health department of the state has built a series of training modules by dividing the entire population into three categories:

The elderly, who are above 65.
Those who have comorbidities (It is the presence of one or more additional medical conditions often co-occurring with a primary condition and is associated with worse health outcomes, more complex clinical management and increased health care costs).
The mobile group or the mobile workforce including students who are constantly on the move.

The Health Department will carry out the training with the help of identified master trainers and a certificate will be provided to all those who have successfully completed training.
The two main components of training include checklists and self-help diaries.
Checklists: A checklist, with a set of model questions which address topics such as hand hygiene, social distancing, respiratory etiquette, will be provided for all three groups.
The checklist is designed in such a way that one can rate themselves out of ten based on their performance on that day.
Self-help Diaries: The senior population and those living with comorbidities can use these as a tool to monitor themselves. Accredited Social Health Activist (ASHA) and Anganwadi teams will go to every house to train this section.
3.'Jet Zero' plan: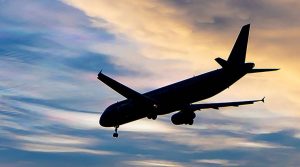 Recently, the United Kingdom (U.K.) announced a 'Jet Zero' plan to bring down its aviation emissions.
Aim: The Jet Zero aims to bring down greenhouse gas emissions from aviation to make carbon-free transatlantic flights possible within a generation.
A transatlantic flight is the flight of an aircraft across the Atlantic Ocean from Europe, Africa, or the Middle East to North America, Central America, or South America, or vice versa.
Jet Zero Council: A group called 'Jet Zero Council' has been formed by the U.K. government by bringing together leaders from the aviation sector, environmental groups, and government.
This group has been given charge for making net-zero emissions possible for future flights.
To achieve its target of a net-zero emissions economy by 2050, it is important to cut transport emissions.
Aviation emissions currently account for more than 2% of global greenhouse gases and have risen by 70% since 2005.
The International Civil Aviation Organization forecasts that the emissions will rise another 300% by 2050 in the absence of measures to bring them down.
The U.K. government is also funding Velocys (aviation biofuels making company) in support of its plans to build a major jet biofuel plant in Lincolnshire.
Net-zero emissions mean doing away with fossil fuels and other sources of emissions wherever possible. It also involves any emissions that are balanced by absorbing an equivalent amount from the atmosphere.
4. 'Draft Electricity (Amendment) Bill, 2020: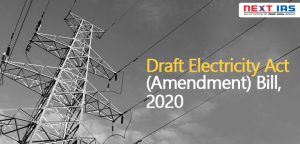 Few states have voiced their concerns against the proposed bill. These include-West Bengal, Punjab, Puducherry, Kerala, Rajasthan, Jharkhand, Chhattisgarh, Maharashtra, Delhi, Telangana, and Andhra Pradesh.
They called the draft Bill a violation of "the spirit of co-operative federalism" and accused the Centre of failure to consult the States on the Bill since electricity is on the Concurrent List.
The Bill seeks to end subsidies. All consumers, including farmers, will have to pay the tariff, and the subsidy will be sent to them through direct benefit transfer.
States are worried about this clause because::This would mean people would have to pay a huge sum towards electricity charges while receiving support through direct benefit transfer later.
This would result in defaults leading to penalties and disconnection.
The draft also "divests" the States of their power to fix tariff and hands over the task to a Central government-appointed authority.
This is discriminatory since the tariff can be tweaked according to the whims and fancies of the Central government.
Another provision makes it compulsory for the State power companies to buy a minimum percentage of renewable energy fixed by the Centre.
This would be detrimental to the cash- strapped power firms.
The Electricity Act, 2003 has governed the laws regarding the generation, distribution, transmission, trading and use of electricity so far.
But, experts around the country have opined that some of the provisions of the Act have become dated and archaic, needing an update.
In order to address some recurring issues, and to promote further commercial incentives for private players to enter the market, the Electricity (Amendment) Bill, 2020 was introduced in April this year.
Highlights of the Bill:
Renewable Energy: It delegates the Central Government with the power to prepare and notify a National Renewable Energy Policy "for promotion of generation of electricity from renewable sources", in consultation with State Governments.
Cross Border Trade: The Central Government has been delegated with the power to prescribe rules and guidelines to allow and facilitate cross border trade of electricity.
Creation of Electricity Contract Enforcement Authority: It has been proposed to be given sole jurisdiction to adjudicate upon matters on the performance of obligations under a contract regarding sale, purchase, and transmission of electricity, which exclusion of this specialized authority's jurisdiction on the determination of tariff or any other dispute regarding tariff.
Payment Security: It proposes a mechanism wherein "no electricity shall be scheduled or despatched under such contract unless adequate security of payment as agreed upon by the parties to the contract, has been provided".
Grant of Subsidy mandated: The benefit of subsidy to be granted directly to the consumer and the licensee shall charge the consumers as per the tariff determined by the Appropriate Commission. The determination of tariffs shall be fixed by the commission without accounting for subsidies. Further, basis the tariff policies, surcharges, and cross-subsidies shall be progressively reduced.
Inclusion of Distribution Sub-licensee and Franchisee: To ease the burden of distribution licensees and in order to promote some form of demographic specialization, the distribution licensees, can appoint another entity for distribution of electricity on its behalf, within its area of supply.
Enhancement of the powers of the Appellate Tribunal of Electricity: APTEL is proposed to have the powers of a High Court to deal with wilful disobedience of persons and entities under the Contempt of Courts Act, 1971. Additionally, any person can appeal the decisions of the Authority which is introduced by this Amendment in front of the APTEL. The numbers of members at the APTEL have also been proposed to be increased by the Amendment.
Applicable to the whole of India: It is needless to mention, that in addition to the above mentioned broad themes that the Amendment seeks to cover, the Act shall now be applicable to the territory which was erstwhile exempted from the State of Jammu and Kashmir.
5.Second Constitution Amendment Bill, (Nepal):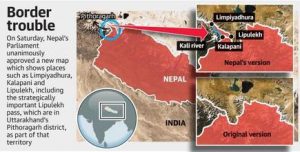 The Lower House of Nepal's Parliament unanimously voted for the Second Constitution Amendment Bill, which guarantees legal status for the new political map of the country that includes part of Indian territory in Uttarakhand, laying claim over the strategically key areas of Lipulekh, Kalapani, and Limpiyadhura along the border with India.
The bill will now be sent to the National Assembly (NA). After the National Assembly passes the bill, it will be submitted to the President for authentication, after which the bill will be incorporated in the Constitution.
The territorial dispute of Kalapani, Limpiyadhura, and Lipulekh stems from the fact that Nepal claims the land to the east of river Kali, which forms the country's western border.
As per Nepal's understanding, the river originates from Limpiyadhura in the higher Himalayas, giving it access to a triangular-shaped land defined by Limpiyadhura-Lipulekh and Kalapani.
India opposes the notion and says the origin of the river is much further down, which reduces Nepal's territorial demand.
Nepal unveiled the new map on May 20 after Defence Minister Rajnath Singh inaugurated Darchula-Lipulekh link road on May 8. Nepal had earlier strongly protested when the updated Indian map published in November last year, showing the region as part of Uttarakhand.
Nepal claims right to the region and says India was allowed to station troops there in the 1950s and that India has refused to remove forces from the region ever since.
Other important current affairs:
1. Second Lieutenant Anmol Narang created history by becoming the first observant Sikh to graduate from the prestigious United States Military Academy at West Point.
While she is the first observant Sikh to graduate from the academy, she isn't the first Sikh.
A Sikh man Simratpal Singh "cut his hair short and kept his beard shorn" while at the academy, in keeping with US military guidelines. He subsequently moved court and secured an exemption to wear a turban and beard, as required by the Sikh faith.
In 1987, the US Congress passed a law that prohibited Sikhs and several other religious communities from maintaining their articles of faith while in the military, despite a history of diverse service and simple accommodations.
Over the years, the US Army and the US Air Force have changed their policies to allow members to wear articles of faith such as turbans and unshorn hair.
2. India is planning to post Naval Liaison Officers (LOs) at the Regional Maritime Information Fusion Centre (RMIFC) in Madagascar and the European Maritime Awareness in the Strait of Hormuz (EMASOH) in Abu Dhabi for improved Maritime Domain Awareness (MDA).
This move comes after India joined the Indian Ocean Commission (IOC) as Observer in March 2020 along with Japan and the United Nations.
The move aims to improve linkages of the Navy's Information Fusion Centre for the Indian Ocean Region (IFC-IOR) in Gurugram with other IFCs and become the repository for all maritime data in the IOR.
India is working closely with France, who is a pre-eminent member of IOC, to post a Naval LO at the RMIFC in Madagascar.
The RMFIC functions under the aegis of the IOC and is designed to deepen maritime domain awareness by monitoring maritime activities and promoting information sharing and exchange.
The Navy LO is expected to be posted at EMASOH by July and at the RMIFC by September or October 2020.
India has a LO at the IFC in Singapore for over four years now.
3.Raja Parba festival of Odisha:
Prime Minister Narendra Modi greeted the nation on the festival of Raja Parba.
Raja Parba is Odisha's three-day unique festival celebrating the onset of monsoon and the earth's womanhood. It is believed that during this time the Mother Earth or Bhudevi undergoes menstruation.
As a mark of respect towards the earth during her menstruation days, all agricultural works, like ploughing, sowing is suspended for the three days.
As it is a celebration of womanhood, a lot of the focus is on young women, who wear new clothes, apply 'Alata' on their feet and enjoy folk songs while swinging on decorated rope swings.
Raja Sankranti is the first day of the Ashara month. It is celebrated on the day prior to the Sankranti, (Pahili Raja), the day of Sankranti, and the day after, known as Bhu Daha or 'Basi Raja.
4.A rare amphibian i.e. Malabar Gliding Frog (Rhacophorus malabaricus) was spotted in Pullad, Kerala.
The amphibian is endemic to the rainforest of western ghats.
Endemic species are those plants and animals that exist only in one geographical region.
It is a green frog with a slender body, webbed feet, unusual body positions, and very well camouflaged.
Camouflage, also called cryptic coloration, is a defense mechanism or tactic that organisms use to disguise their appearance, usually to blend in with their surroundings.
The fingers and toes are like sticks to attach and walk through tree branches.
It has high gliding abilities, with the long skin between the fingers which helps to cover 10 to 12 feet in one leap.
It has a body length of 10 cm, making it one of the largest mossy frogs
5. World Elder Abuse Awareness Day is being observed on June 15, 2020, with the theme "Safeguard older persons during COVID-19 and beyond."
Date of observance: 15th of June every year.
The objective of the day: To voice opposition to the abuse and suffering inflicted on elderly people.
It was officially recognized by the United Nations General Assembly in 2011 following a request by the International Network for the Prevention of Elder Abuse (INPEA), who first established the commemoration in 2006.
The Impact of COVID-19 on older persons

An estimated 66% of people aged 70 and over have at least one underlying condition, placing them at increased risk of a severe impact from COVID-19.
The COVID-19 pandemic may significantly lower older persons' incomes and living standards. Already, less than 20% of older persons of retirement age receiving a pension.
5. AarogyaPath' :
AarogyaPath, a CSIR National Healthcare Supply Chain Portal that aims to provide real-time availability of critical healthcare supplies has been launched.
AarogyaPath a web-based solution for the healthcare supply chain was launched to serve manufacturers, suppliers, and customers to effectively deal with the Covid-19 pandemic.
This national healthcare supply chain portal will remove supply chain bottlenecks during the Covid-19 pandemic.
The vision of this initiative is to set up an information management and forecasting database platform at the national level. It will capture demand and supply scenarios for key healthcare needs items.
This public platform will help healthcare users like hospitals, pathology laboratories, research institutes, medical colleges, and patients.
6. Railway Protection Force, Pune, under the Central Railways, has launched a Robotic 'CAPTAIN ARJUN' to intensify the screening and surveillance.
The robot will screen passengers while they board trains and keep a watch on anti-social elements.
It is equipped with a motion sensor, one PTZ camera, and one Dome Camera. The Cameras use Artificial Intelligence algorithms to track suspicious and antisocial activity.
7.PK Mohanty panel:
Constituted by RBI To review guidelines of ownership of private sector banks.
To examine the existing regulation and guidelines on ownership of private sector banks.
To suggest appropriate norms to address the issue of concentration of control and ownership of banks.
To review the eligibility criteria of the individuals to apply for a banking license.
8. Juneteenth is the portmanteau of June and nineteenth and while it is not a federal holiday, it is recognized as a state holiday in over 45 US states.
The day is the oldest nationally celebrated commemoration of the ending of slavery in the US and is observed on June 19.
It is also known as Emancipation Day or Juneteenth Independence Day.
On June 19, 1865, Major General Gordon Granger arrived in Galveston, Texas, and announced the end of both the Civil War and slavery. Since then, Juneteenth has become a largely symbolic date representing freedom for African Americans.
9. The Central Institute of Medicinal and Aromatic Plants (CIMAP) has announced a photography competition on medicinal and aromatic plants to convey the message of conservation of these medicinal plants. The theme of the competition is 'Know your Medicinal and Aromatic Plants (MAPs)'.
Parent body: Central Institute of Medicinal and Aromatic Plants (CIMAP) is a research institute of the Council of Scientific and Industrial Research (CSIR).
Established in: 1959.
Location: Lucknow, Uttar Pradesh.
Mandate: It is engaged in the field of science and business of medicinal and aromatic plants.
Need Monthly Current Affairs PDF?
Get everything on your phone with our all in one app for your UPSC Preparation.
Get daily current affairs on you phone
Download monthly current affairs PDF
All India daily mock tests with ranking