Orunodoi Scheme : Assam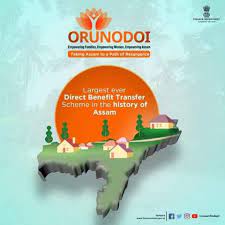 10.54 In lakh, the additional number of people will benefit from Assam government's second edition of 'Orunodoi'. With this, the total number of beneficiaries will come to 27 lakh.
It is a scheme of the Government of Assam is launched on 2nd October 2020.
Under 'Orunodoi', monetary benefits have been envisaged for more than 24 lac poor household in the state.
Government of Assam will provide monthly financial assistance to the eligible beneficiaries for procuring medicines, pulses, and sugar.
The schematic benefit has been enhanced from 830/- to Rs. 1000/ Women.
Women being the primary caretakers of the family are kept as beneficiaries of the scheme.
'Orunodoi' scheme will provide Financial Assistance of Rs. 1000 per month through Direct Benefit Transfer (DBT) scheme.
The financial outlay for Orunodoi is ₹4,142 crore per annum.
The preliminary selection of the beneficiaries will be done at the level of Gaon Panchayat (GP) Village Council Development Committee (VCDC) Urban Local Body (ULB) based on eligibility/ineligibility conditions.