Mission Indradhanush

Mission Indradhanush is a health mission of the government of India. The scheme seeks to drive towards 90% full immunization coverage of India and sustain the same by the year 2020. Vaccination is being provided against eight vaccine-preventable diseases nationally, i.e. Diphtheria, Whooping Cough, Tetanus, Polio, Measles, a severe form of Childhood Tuberculosis and Hepatitis B and meningitis & pneumonia caused by Haemophilus influenza type B; and against Rotavirus Diarrhea and Japanese Encephalitis in selected states and districts respectively.
Contents:
Background.
Objective
Disease covered.
The goal of the scheme.
Implementation(catch up campaign)
District covered.
Phases of Mission IndraDhanush.
Benefits.
Intensified Mission IndraDhanush 2.0
Current scenerio.
Background:
Mission Indradhanush was launched by the Ministry of Health and Family Welfare, Government of India on December 25, 2014. Between 2009-2013 immunization coverage has increased from 61% to 65%, indicating only a 1% increase in coverage every year. To accelerate the process of immunization by covering 5% and more children every year, Indradhanush's mission has been adopted to achieve the target of full coverage by 2020 Immunization Programme in India was introduced in 1978 as the 'Expanded Programme of Immunization' (EPI) by the Ministry of Health and Family Welfare, Government of India. In 1985, the program was modified as eas under National Health Mission (NHM) since 2005. Despite being operational for many years, UIP has been able to fully immunize only 65% children in the first year of their life. Its aim is to immunize all children under the age of 2 years, along with all pregnant women, against vaccine-preventable diseases.
The objective of the mission:
The Mission Indradhanush aims to cover all those children by 2020 who are either unvaccinated or are partially vaccinated against vaccine-preventable diseases.
India's Universal Immunisation Programme (UIP) provide free vaccines against 12 life-threatening diseases, to 26 million children annually.
generating a high demand for immunization services by addressing communication challenges.
enhancing political, administrative and financial commitment through stakeholders.
The goal of the mission: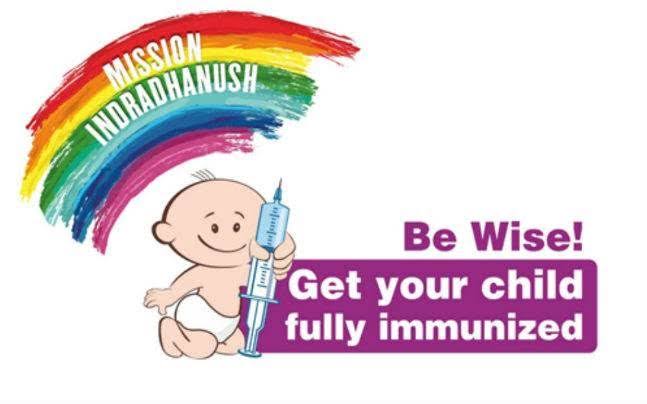 The ultimate goal of Mission Indradhanush is to ensure full immunization with all available vaccines for children up to two years of age and pregnant women.
The Government has identified 201 high focus districts across 28 states in the country that have the highest number of partially immunized and unimmunized children.
Earlier the increase in full immunization coverage was 1% per year which has increased to 6.7% per year through the first two phases of Mission Indradhanush.
Four phases of Mission Indradhanush have been conducted till August 2017 and more than 2.53 crore children and 68 lakh pregnant women have been vaccinated.
Disease covered under Mission Indradhanush:
The Universal Immunization Program would provide life-saving vaccines to the children across the nation free of cost, to protect them against the following diseases:
Tuberculosis
Diphtheria
Pertussis
Tetanus
Polio
Hepatitis B
Pneumonia
Meningitis's due to
· Hemophilia's Influenzae type b (Hib),
· Measles
· Rubella
· Japanese
· Encephalitis (JE)
· Rotavirus diarrhea.
Implementation of the Mission Indradhanush scheme:
Focused and systematic immunization drive will be through a "catch-up" campaign mode where the aim is to cover all the children who have been left out or missed out for immunization. Also, the pregnant women are administered the tetanus vaccine, ORS packets and zinc tablets are distributed for use in the event of severe diarrhea or dehydration and vitamin A doses are administered to boost child immunity.
Phases of the Mission Indradhanush scheme:
The Mission Indradhanush has been divided into four phases:
Phase 1
This was started as a weeklong special intensified immunization drive from the 7th of April 2015 with the focus on 201 districts for four months consecutively.
Along with this phase, there were more than 75 lakh children who were vaccinated of which only 20 lakh children were fully vaccinated and more than 20 lakh pregnant women received the tetanus toxoid vaccine.
Phase 2
This phase had covered a total of 352 districts in the nation of which 279 were the medium focus districts and the remaining 73 were the high focus targets phase 1.
During phase 2 of the mission, there were four special drives of weeklong durations that were conducted starting from October 2015.
Phase 3
Mission Indradhanush launched a third phase from the 7th of April 2016 that covered 216 districts.
There were four intensified immunization rounds that were conducted for seven days in each between April and July 2016, in these districts.
The 216 districts were identified on the basis of estimates were fully immunized coverage was less than 60 percent and had a high dropout rate.
And apart from the under 2 years old, they also focused on 5-year-olds and on increasing the DPT booster coverage, as well as giving tetanus toxoid injections to pregnant women.
Phase 4
The fourth phase was launched on the 7th of February 2017 covering the entire North-eastern states of:
Arunachal Pradesh
Assam
Manipur
Meghalaya
Mizoram
Nagaland
Sikkim
Tripura
The ministry us being technically supported by WHO, UNICEF, Rotary International, and other donor partners, interpersonal communication, Mass Media and mechanisms of monitoring and evaluating the scheme, they are crucial components of Mission Indradhanush. The mission is to be rolled out in the entire country by April 2017.
Coverage area:
Mission Indradhanush targets 201 high priority districts in the first phase, 297 districts for the second phase in the year 2015 and 216 districts in the third Phase during 2016.
Within the districts, the Mission focusses on high-risk settlements identified by the polio eradication program.
These are the pockets with low coverage due to geographic, demographic, ethnic and other operational challenges. Evidence has shown that most of the unvaccinated and partially vaccinated children are concentrated in these areas.
The following areas are targeted through special immunization campaigns:
High-risk areas identified by the polio eradication program. These include populations living in areas such as:
Urban slums with migration
Nomads
Brick kilns
Construction sites
Other migrants (fisherman villages, riverine areas with shifting populations, etc.) and
Underserved and hard to reach populations (forested and tribal populations etc.)
Areas with low routine immunization (RI) coverage (pockets with Measles/vaccine-preventable disease (VPD) outbreaks).
Areas with vacant sub-centers: No ANM posted for more than three months.
Areas with missed Routine Immunisation (RI) sessions: ANMs on long leave and similar reasons
Small villages, hamlets, dhanis or purbas clubbed with another village for RI sessions and not having independent RI sessions.
District covered: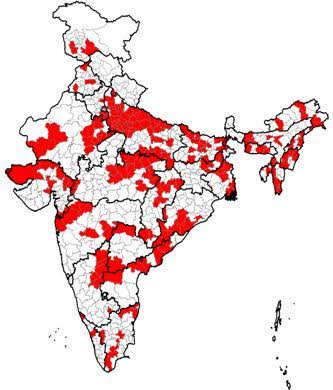 Phase I – 201 districts
Phase II – 352 districts
Phase III – 216 districts
Phase IV – The fourth phase of Mission Indradhanush has already begun in North-eastern states – Arunachal Pradesh, Assam, Manipur, Meghalaya, Mizoram, Nagaland, Sikkim, and Tripura from 7th February 2017.
Intensified Mission Indradhanush (IMI)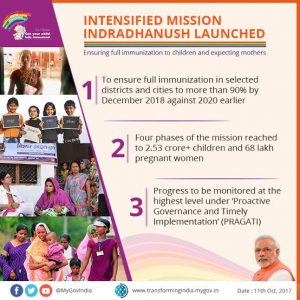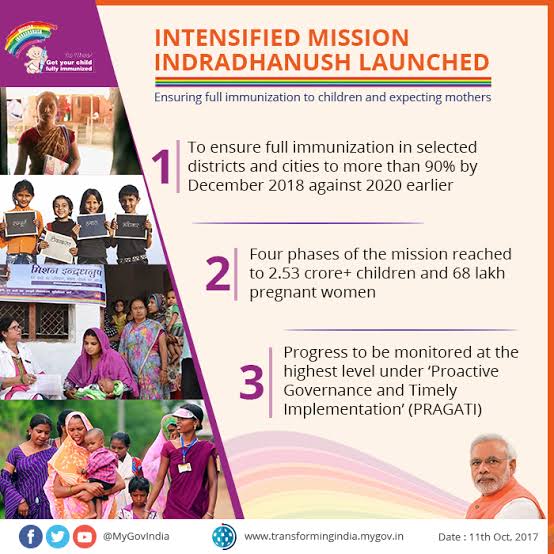 To further intensify the immunization program, Prime Minister Shri Narendra Modi launched the Intensified Mission Indradhanush (IMI) on October 8, 2017.
Through this program, the Government of India aims to reach each and every child up to two years of age and all those pregnant women who have been left uncovered under the routine immunization program/UIP.
The focus of the special drive was to improve immunization coverage in select districts and cities to ensure full immunization to more than 90% by December 2018.
Under IMI, four consecutive immunization rounds were conducted for 7 days in 173 districts (121 districts and 17 cities in 16 states and 52 districts in 8 northeastern states) every month between October 2017 and January 2018. Intensified Mission Indradhanush has covered low performing areas in the selected districts (high priority districts) and urban areas.
Special attention was given to unserved/low coverage pockets in sub-center and urban slums with the migratory population. The focus was also on the urban settlements and cities identified under the National Urban Health Mission (NUHM).
Intensified Mission Indradhanush (IMI) 2.0: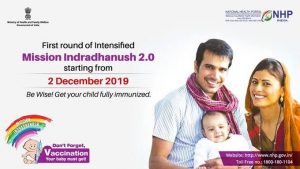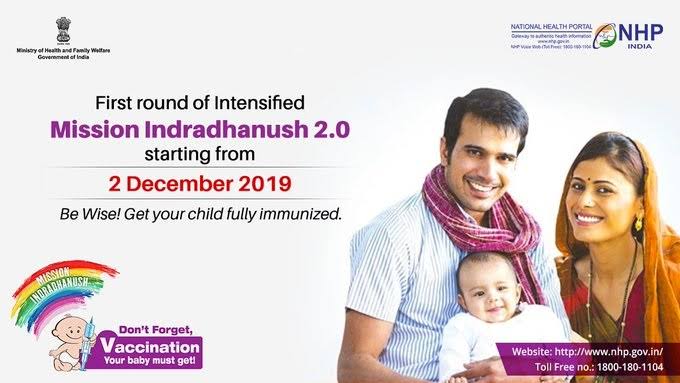 To boost the routine immunization coverage in the country, the Government of India has introduced Intensified Mission Indradhanush 2.0 to ensure reaching the unreached with all available vaccines and accelerate the coverage of children and pregnant women in the identified districts and blocks from December 2019-March 2020.
The IMI 2.0 aims to achieve targets of full immunization coverage in 272 districts in 27 states and at the block level (652 blocks) in Uttar Pradesh and Bihar among hard-to-reach and tribal populations.
With the launch of Intensified Mission Indradhanush 2.0, India has the opportunity to achieve further reductions in deaths among children under five years of age, and achieve the Sustainable Development Goal of ending preventable child deaths by 2030.
Several ministries, including the Ministry of Women and Child Development, Panchayati Raj, Ministry of Urban Development, Ministry of Youth Affairs and others have come together to make the mission a resounding success and support the central government in ensuring the benefits of vaccines reach the last mile.
The salient features of IMI 2.0 are:
Conduction of four rounds of immunization activity over 7 working days excluding the RI days, Sundays and holidays.
Enhanced immunization sessions with flexible timing, mobile session, and mobilization by other departments.
Enhanced focus on left-outs, dropouts, and resistant families and hard to reach areas.
Focus on urban, underserved populations and tribal areas.
Inter-ministerial and inter-departmental coordination.
Enhance political, administrative and financial commitment, through advocacy.
IMI 2.0 drive is being conducted in the selected districts and urban cities between Dec 2019 – March 2020
A portal named Intensified Mission Indradhanush 2.0(https://imi2.nhp.gov.in/AboutUs) has been designed to manage the data reporting by different ministries/ departments, and to capture pre-campaign activities, activities during immunization rounds and post-campaign indicators on immunization coverage.
Current scenario.
The first and second phase had 1.48 crore children and 38 lakh pregnant women additionally immunized. Of these around 39 lakh children and more than 20 lakh women have been additionally fully immunized.
Across the country, 21.3 lakh sessions held through the country in the high and mid-priority districts and more than 3.66 crores antigens were administered.
The third phase had 28.7 lakh immunization sessions that were conducted covering 2.1 crore children of which 55 lakh were fully immunized.
Along with 55.9 lakh pregnant women that were given the tetanus toxoid vaccine across the 497 districts.
The government has launched its flagship scheme 'Intensified Mission Indradhanush 2.0' to focus on full immunization coverage of 272 districts spread over 27 states and 652 blocks of Uttar Pradesh and Bihar among hard-to-reach and tribal populations. The Mission Indradhanush 2.0 will be carried out between December 2019 and March 2020.
Mission Indradhanush 2.0 Highlights:
Immunization activity will be in 4 rounds
Enhanced immunization session with flexible timing, mobile session & mobilization by other departments
Enhanced focus on left-outs, dropouts, and resistant families & hard to reach areas
Focus on urban, underserved population and tribal areas
 Intensified Mission Indradhanush to be conducted till March 2020
Mission Indradhanush Website – http://nhp.gov.in/mission-indradhanush1_pg