Palme d'Or : Winner 2022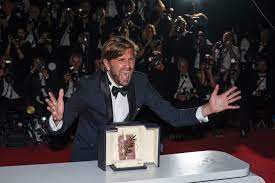 The Palme d'Or is considered one of the most prestigious awards in the film industry.
The winner – 2022: The Swedish satire Triangle of Sadness, directed by Ruben Östlund.
It is awarded to the film adjudged the best among those contending at the Cannes Film Festival.
Cannes is one of the "big five" international film festivals — the other four being the Venice Film Festival, the Berlin International Film Festival, the Toronto International Film Festival and the Sundance Film Festival.
Chetan Anand's Neecha Nagar is the only Indian film to win the award (The film was never released in India).