Parker Solar Probe: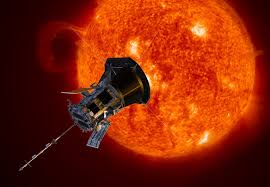 Parker Solar Probe Marks Seventh Successful Swing around the Sun.
None are closer than Parker Solar Probe, which passed just 8.4 million miles (13.5 million kilometers) from the Sun's surface while flying at 289,932 miles per hour on Jan 17.
Now just over two years into its seven-year mission, the Parker Solar Probe spacecraft will eventually travel within 4 million miles of the Sun's surface.
About the mission:
NASA's historic Parker Solar Probe mission will revolutionize our understanding of the sun, where changing conditions can propagate out into the solar system, affecting Earth and other worlds.
Parker Solar Probe will travel through the sun's atmosphere, closer to the surface than any spacecraft before it, facing brutal heat and radiation conditions — and ultimately providing humanity with the closest-ever observations of a star.
In order to unlock the mysteries of the sun's atmosphere, Parker Solar Probe will use Venus' gravity during seven flybys over nearly seven years to gradually bring its orbit closer to the sun.
The spacecraft will fly through the sun's atmosphere as close as 3.9 million miles to our star's surface, well within the orbit of Mercury and more than seven times closer than any spacecraft has come before.
The primary science goals for the mission are to trace how energy and heat move through the solar corona and to explore what accelerates the solar wind as well as solar energetic particles.
Parker Solar Probe objectives:
Trace the flow of energy that heats and accelerates the solar corona and solar wind.
Determine the structure and dynamics of the plasma and magnetic fields at the sources of the solar wind.
Explore mechanisms that accelerate and transport energetic particles.