What Is Permian extinction?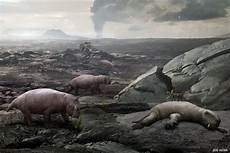 Scientists from Stanford University, warn of imminent mass annihilation of marine species similar to the Permian extinction (250 million years ago) that wiped out most lives in oceans
Permian extinction (or the "Great Dying") was caused by global warming that left ocean animals unable to breathe.
Roughly 96 per cent of marine species and 70 per cent of land species went extinct.
Permian Era: During this period, land masses collided to form the supercontinent Pangaea. The supercontinent was arid; only a few parts received rainfall round the year.
However, the large Panthalassic Ocean, which covered much of Earth, was home to many marine species
Reason Of extinction:

Towards the end of the era, a series of volcanic eruptions occurred in central Siberia, injecting massive amounts of greenhouse gases (GHG) into the atmosphere. Then, as of now, the uncontrolled GHG emissions triggered climatic changes.