Gyanvapi Mosque: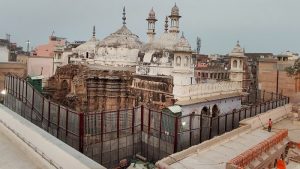 A Varanasi district court dismissed an application filed by the Anjuman Intezamia Masjid Committee challenging the maintainability of the suit filed by five Hindu women seeking the right to worship Hindu deities within the Gyanvapi mosque (located in Banaras, Uttar Pradesh) premises all year round.
District judge A.K. Vishvesha ruled that neither the Places of Worship Act, 1991, nor the Waqf Act, 1995, nor the U.P. Shri Kashi Vishwanath Temple Act, 1983, bar the suit and that the "plaintiffs will have right to prove their averments by cogent evidence".
The suit, filed by Rakhi Singh and four other women, claimed Hindus had been worshipping Maa Shringar Gauri, Lord Ganesha and other visible and invisible deities daily at the said property till as recently as 1993, after which the Uttar Pradesh government restricted the worship to one day a year.
The court noted that the suit filed by the Hindu women "is limited and confined to the right of worship as a civil right and fundamental right as well as customary and religious right".
The court emphasised that the suit neither sought a declaration or injunction over the property in question, nor did it seek the conversion of the mosque into a temple.