Personal Data Protection Bill, 2019: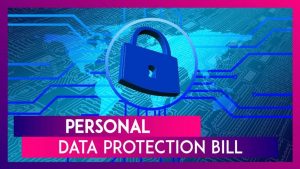 A Parliamentary panel deliberating on the Personal Data Protection Bill has made the following recommendations:
Limit the exemptions available to the government under the current version by placing reasonable restrictions on how the exemption can be availed.
The government be exempted only under a "just, fair, reasonable and proportionate procedure".
The government keep non-personal data "including anonymous data" outside the purview of the personal data protection bill.
The draft Personal Data Protection Bill, 2019 was referred to a Joint Parliamentary Committee (JPC) in 2019 which was tasked to come up with a report on its recommendations on the various provisions in the bill.
Currently, the contentious clause 35 of the draft data protection bill allows the government and its agencies to gain blanket exemptions from complying with any and all provisions of the bill, with no checks and balances in place.
Agencies like the Aadhaar authority UIDAI and the Income Tax Department have already sought to be exempted from the bill.
The Personal Data Protection (PDP) Bill 2019:
The genesis of this Bill lies in the report prepared by a Committee of Experts headed by Justice B.N. Srikrishna.
The committee was constituted by the government in the course of hearings before the Supreme Court in the right to privacy case (Justice K.S. Puttaswamy v. Union of India).