Dulari Devi: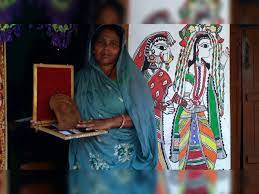 Prime Minister Narendra Modi has expressed gratitude for the gesture by Dulari Devi, an artist from Bihar's Madhubani, who presented him a sample of her artwork during an informal interaction with Padma awardees at Rashtrapati Bhavan.
Dulari Devi (born 1968) is an Indian artist and illustrator, working in the Mithila art tradition.
She practices both, the 'Kachnhi' (line sketching) 'and 'Bharni' (colored) styles of Madhubani but has indicated a preference for the latter.
She learned to draw and illustrate in the Madhubani style while she was working as a domestic servant in the home of Madhubani artist Mahasundari Devi. Mahasundari Devi introduced her to another artist, Karpoori Devi, who also taught Dulari Devi Madhubani art and techniques.
In 2021, she was a recipient of the Padma Shri, a civilian honour granted by the Government of India, for her contributions to art.