Personal Data Protection (PDP) Bill, 2019: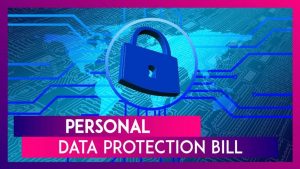 A Joint Parliamentary Committee (JPC) has finalised and adopted the draft report on The Personal Data Protection (PDP) Bill, 2019 by a majority.
The Bill will be soon tabled in the upcoming Winter Session of Parliament. The JPC has got five extensions to submit a report on the Bill in two years.
PDP Bill:
It was first brought to the Parliament in 2019 and was referred to the JPC for examination at the time.
The Bill was drafted after a Supreme Court ruling that declared 'Right to Privacy' a fundamental right in August 2017, Puttaswamy judgment.
It is commonly referred to as the "Privacy Bill" and intends to protect individual rights by regulating the collection, movement, and processing of data that is personal, or which can identify the individual.
The Bill is landmark legislation meant to regulate how various companies and organizations use individuals' data inside India.
The 2019 draft of the Bill proposed the formation of a Data Protection Authority (DPA), which would regulate the use of users' personal data by social media companies and other organizations within the country.
Report:
Clause 35/Exemption Clause:
The committee has retained the Clause with minor change.
It allows the Government to keep any of its agencies outside the purview of the law.
The Clause in the name of "public order", 'sovereignty', "friendly relations with foreign states" and "security of the state" allows any agency under the Union Government exemption from all or any provisions of the law.
The clause is for "certain legitimate purposes" and also there is precedent in the form of the reasonable restrictions imposed upon the liberty of an individual, as guaranteed under Article 19 of the Constitution and the Puttaswamy judgment.