National Achievement Survey (NAS) 2021 Report: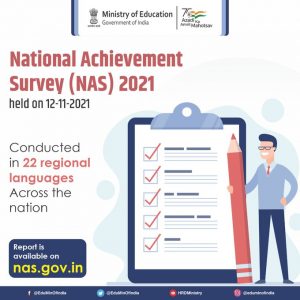 The Department of School Education and Literacy, Ministry of Education released the National Achievement Survey (NAS) 2021 report. The last NAS was held in 2017.
It assesses the health of school education system in the country by conducting comprehensive evaluation survey of children's learning competencies at classes III, V, VIII and X with a cycle period of three years.
The report also evaluated competencies of students in subjects such as mathematics, languages, and environmental studies (EVS) for Classes 3 and 5; language, mathematics, science and social science for Class 8; and language, mathematics, science, social science and English for Class 10.
Findings:
Nearly 80% students found learning at home during the pandemic "burdensome" and felt that they learnt better in school with help from peers.
As many as 24% students said they had no digital device at home.
Though 45% students found the experience "joyful", 38% also said that they had difficulties in learning.
Out of a score of 500, students across various classes performed better in languages, but lagged behind in subjects like mathematics and science.
Across various subjects and classes, SC, ST and OBC students perform worse than general category students.