Nobel Prize For Literature: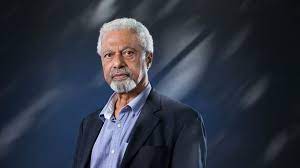 Abdulrazak Gurnah, 72, who was born in Zanzibar and now lives in the UK, became the fifth African writer to win the Nobel Prize for Literature, after Nigerian writer Wole Soyinka (1986), Egyptian Naguib Mahfouz (1988), and South African writers Nadine Gordimer (1991) and John M Coetzee (2003).
He is the author of 10 novels and several short stories and essays, including Memory of Departure (1987), Pilgrims Way (1988), Paradise (1994), By the Sea (2001), Desertion (2005), Gravel Heart (2017) and, most recently, Afterlives (2020).
His writing explores the immigrant experience and how exile and loss shape identities and cultures.
Most of his books feature African Arab protagonists trying to come to terms with dislocation and estrangement, looking in on societies and cultures on which their holds are tenuous.
Zanzibar is an autonomous region of Tanzania. It is composed of the Zanzibar Archipelago in the Indian Ocean.