PARAM PORUL Supercomputer: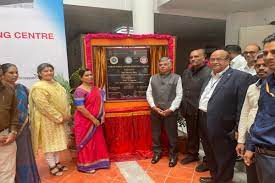 PARAM PORUL, a state-of the art Supercomputer at NIT Tiruchirappalli was dedicated to the nation under Phase 2 of the National Supercomputing Mission (NSM).
A MoU was signed between NIT Tiruchirappalli and Centre for Development in Advanced Computing (C-DAC) in 2020 to establish this 838 TeraFlops Supercomputing Facility under NSM.
NIT, Tiruchirappalli has been carrying out research in the areas of societal interest such as Health, Agriculture, Weather, Financial Services. The facility installed under NSM will strengthen this research.
PARAM PORUL system is based on Direct Contact Liquid Cooling technology to obtain a high power usage effectiveness and thereby reducing the operational cost.
National Supercomputing Mission (NSM):
National Supercomputing Mission (NSM) is a joint initiative of Ministry of Electronics and Information Technology (MeitY) and Department of Science and Technology (DST).
Under NSM, till date 15 supercomputers have been installed across the nation with compute capacity of 24 petaflops.
All these supercomputers have been manufactured in India and operating with indigenously developed software stack.