Plastic-Mixed Handmade Paper: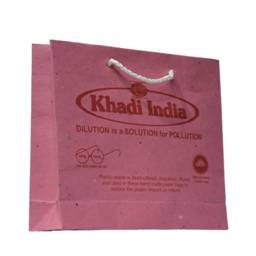 Khadi and Village Industries Commission (KVIC) has secured Patent registration for its innovative Plastic-mixed Handmade Paper developed to reduce plastic menace from nature.
The plastic-mixed handmade paper (which is recyclable and eco-friendly) was developed under Project REPLAN (REducing PLAstic from Nature).
The project was launched in September 2018 as part of KVIC's commitment to Swachh Bharat Abhiyaan.
It aims to make carry bags by mixing processed and treated plastic waste with cotton fibre rags in the ratio 20:80.
This is the first of its kind project in India, where plastic waste is de-structured, degraded, diluted and used with paper pulp while making handmade paper and thus reduces plastic waste from nature.
The invention is aligned with the Prime Minister's call for fighting the menace of single-use plastic.
The production of waste-plastic mixed handmade paper is likely to serve the twin objectives:

Protecting the environment
Creating sustainable employment

The technology developed by KVIC uses both high & low density waste polythene that not only adds extra strength to the paper but also reduces the cost by up to 34%.
KVIC has developed products such as carry bags, envelopes, files/folders, etc. using plastic mixed handmade paper.