PM Gati Shakti National Master Plan (NMP):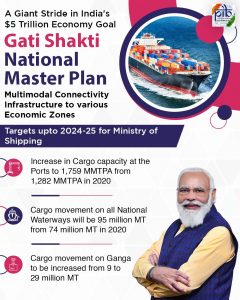 The Centre has constituted a 20-member Empowered Group of Secretaries (EGoS), which will be a monitoring mechanism for the development and implementation of the PM Gati Shakti National Master Plan (NMP).
The Cabinet Secretary will be its Chairperson.
The Members of this Empowered Group include Chairman, Railway Board, Secretaries of Road, Transport and Highways, Civil Aviation; Petroleum and Natural Gas, Power; Telecommunications; Coal, Mines, Chemicals and Fertilizers and Agriculture and Farmers Welfare.
The terms of reference of Empowered Group of Secretaries is to review and monitor implementation of the Plan to ascertain the logistics efficiency and adopt framework and norms for undertaking any amendments in the Plan.
It will also coordinate for any changes in the projects already included in the Plan, within the prescribed framework and norms and to set out a procedure and a definitive time frame for synchronisation of various activities for construction of roads, rail.
Ministry of Commerce and Industry said that the Logistics Division will act as Secretariat to the Empowered Group of Secretaries for its Terms of Reference.