Act East Policy: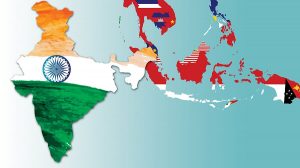 The Union Minister of State Development of North Eastern Region (DoNER) said that connectivity is an important element of Act East Policy.
The 'Act East Policy' announced in November 2014 is the upgrade of the "Look East Policy".
It is a diplomatic initiative to promote economic, strategic, and cultural relations with the vast Asia-Pacific region at different levels.
It involves intensive and continuous engagement with Southeast Asian countries in the field of connectivity, trade, culture, defense, and people-to-people-contact at bilateral, regional, and multilateral levels.
Aim: To promote economic cooperation, cultural ties, and developing a strategic relationship with countries in the Indo-pacific region with a proactive and pragmatic approach and thereby improving the economic development of the North Eastern Region (NER) which is a gateway to Southeast Asia Region.
Look East Policy:
In order to recover from the loss of the strategic partner -USSR (end of the Cold war 1991), India sought to build up a relationship with the USA and allies of the USA in Southeast Asia.
In this pursuit, former Prime minister of India P V Narasimha Rao launched Look East policy in 1992, to give a strategic push to India's engagement with the South-East Asia region, to bolster its standing as a regional power and a counterweight to the strategic influence of the People's Republic of China.