PM MITRA Scheme: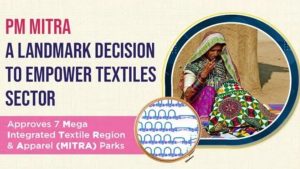 The government has approved the setting up of seven PM MITRA textiles parks, following the "Union Budget for 2021-22″ commitments, with a total outlay of Rs. 4,445 crores in a period of 5 years.
About "PM-MITRA" Scheme:
The scheme aims to realize the vision of building an Aatmanirbhar Bharat by positioning India strongly on the Global textiles map.
It is inspired by the 5F vision of Hon'ble Prime Minister –Farm to Fibre to Factory to Fashion to Foreign.
The scheme aims to create a world-class industrial infrastructure that would attract cutting-edge technology and boost FDI and local investment in the sector.
Sites for the scheme will be selected by a Challenge Method, based on objective criteria for Greenfield / Brownfield sites.
PM MITRA park will be developed by a Special Purpose Vehicle which will be owned by the Central and State Government and in a Public Private Partnership (PPP) Mode.
Each MITRA Park will have an incubation centre, common processing house and a common effluent treatment plant and other textile related facilities such as design centres and testing centres.
The Master Developer will not only develop the Industrial Park but also maintain it during the concession period.
Under the scheme, the centre will provide development capital support for the development of common infrastructure of Rs 500 crore for each greenfield MITRA park and upto Rs 200 crore for each brownfield park.
Greenfield describes a completely new project that has to be executed from scratch, while a brownfield project is one that has been worked on by others.
An additional Rs 300 crore will be provided as Competitiveness Incentive Support for the early establishment of textiles manufacturing units in each of these parks.
Investors who set up "anchor plants" that employ at least 100 people will be eligible for incentives of upto Rs 10 crore every year for upto three years.