Platform of Platforms (PoP) Under The National Agriculture Market (e-NAM):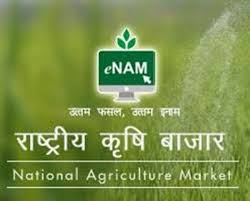 The Union Minister of Agriculture and Farmers Welfare launched the Platform of Platforms (PoP) under the National Agriculture Market (e-NAM) on the side-lines of the State Agriculture and Horticulture Ministers' Conference in Bengaluru, Karnataka.
Platform of Platforms (PoP):
e-NAM integrates the platform of Service Providers as "Platform of Platforms" which includes:

Composite Service Providers (Service Providers who provide holistic services for trading of agricultural produce including quality analysis, trading, payment systems and logistics)
Logistics Service Provider, Quality Assurance Service Provider, Cleaning, Grading, Sorting & Packaging Service Provider, Warehousing Facility Service Provider, Agricultural Input Service Provider, Technology Enabled Finance & Insurance Service Provider
Information Dissemination Portal (Advisory Services, crop forecasting, weather updates, capacity building for farmers etc.)
Other platforms (e-commerce, international agri-business platforms, barter, private market platforms etc.).
e-NAM Portal:
National Agriculture Market (eNAM) is a pan-India electronic trading portal which networks the existing APMC mandis to create a unified national market for agricultural commodities.
Small Farmers Agribusiness Consortium (SFAC) is the lead agency for implementing eNAM under the aegis of Ministry of Agriculture and Farmers' Welfare, Government of India.
Vision:

To promote uniformity in agriculture marketing by streamlining of procedures across the integrated markets, removing information asymmetry between buyers and sellers and promoting real time price discovery based on actual demand and supply.

Mission:

Integration of APMCs across the country through a common online market platform to facilitate pan-India trade in agriculture commodities, providing better price discovery through transparent auction process based on quality of produce along with timely online payment.