Narmada River : Flood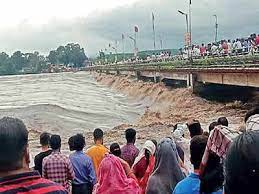 Severe rains in Gujarat caused the Narmada River to flood, displacing thousands. Some blame the Sardar Sarovar Dam operators for their delayed actions.
The Sardar Sarovar Damis a concrete gravity dam built on the Narmada River in Navagam near the town of Kevadiya, Narmada District, in the state of Gujarat.
The dam was constructed to provide water and electricity to four Indian states: Gujarat, Madhya Pradesh, Maharashtra, and Rajasthan
The Narmada is the largest west-flowing river, the fifth-largest in India, flowing through Madhya Pradesh, Maharashtra, and Gujarat before reaching the Gulf of Cambay.
It is situated between the Vindhya and Satpura Ranges.
Notable dams in the Narmada Basin include the Sardar Sarovar Dam, Rani Avanti Bai Sagar (Bargi) Dam, and Maheshwar Dam.