Sela Tunnel project : Arunachal Pradesh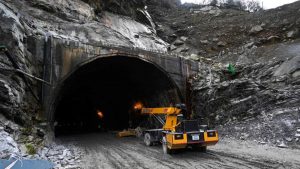 The strategically-significant Sela Tunnel project in Arunachal Pradesh is nearing completion.
Located in West Kameng district of Arunachal Pradesh, the tunnel project will provide an alternate axis to the Sela pass, which is at 13,700 feet. It will be on the BCT Road – the Balipara, Charduar and Tawang axis, which is more than 300 km long.
The project, being executed by the Border Roads Organisation, includes two tunnels and a link road.
While Tunnel 1 will be 980 metres long single-tube, Tunnel 2 will be 1,555 metres with one bi-lane tube for traffic and one escape tube for emergencies running alongside.
The link road between the two tunnels will be 1,200 metres.
Tunnel 2 will be one of the longest tunnels to have been constructed above an altitude of over 13,000 feet.
Upon completion, which is likely by the end of this year, the Sela Tunnel above 13,000-ft will boost all-weather connectivity to the Line of Actual Control with China.