President Of Serbia : Aleksandar Vucic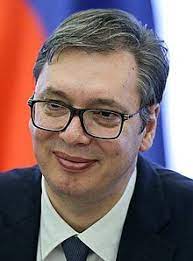 Aleksandar Vucichas been re-elected as the President of Serbia. The pollster organizations CeSID and Ipsos had predicted victory for Vucic.
The pro-European and centrist Alliance for Victory coalition was represented by Zdravko Ponos, a retired army general.
The pollsters had predicted that Vucic's Serbian Progressive Party (SNS) would win most of the votes with 43 percent and they would be followed by the United for Victory of Serbia opposition.
In third place stood the Socialist Party of Serbi
Aleksandar Vucicis serving as Serbia's president since 2017, and since 2012 he has been serving as the president of the Serbian Progressive Party (SNS).
He has served as the President for two terms, from 2014 to 2016 and from 2016 to 2017.
In 2017, he was first elected as the country's President and succeeded Tomislav Nikolic. Vucic's rule has been described by observers as an autocratic, authoritarian, illiberal democratic regime, and he curtailed the freedom of the press.