Project BOLD In Jaisalmer: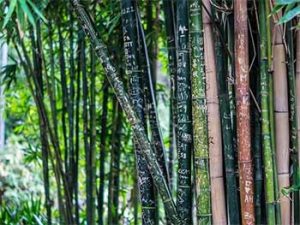 The project was launched by Khadi and Village Industries Commission (KVIC) & BSF have launched Project BOLD in Jaisalmer to Prevent Desertification and Support Rural Economy. Under this, they have planted 1000 bamboo saplings.
Recently KVIC launched Project BOLD in the tribal village of Nichla Mandwa in Udaipur, Rajasthan.
Under this, 5000 saplings of special bamboo species – BambusaTulda and BambusaPolymorpha specially brought from Assam – were planted in vacant arid Gram Panchayat land.
With this, KVIC created a world record of planting the highest number of bamboo saplings on a single day at one location.
BOLD stands for Bamboo Oasis on Lands in Drought.
Launched by Khadi and Village Industries Commission (KVIC).
The initiative has been launched as part of KVIC's "Khadi Bamboo Festival" to celebrate 75 years of independence "Azadi ka Amrit Mahotsav".
Objectives: To create bamboo-based green patches in arid and semi-arid land zones, To reduce desertification and provide livelihood and multi-disciplinary rural industry support.