Thirugnana Sambandar: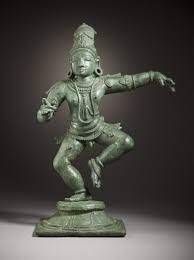 The National Gallery of Australia (NGA) announced that it would return 14 works of art from its Asian art collection to India.
The works being returned are:
dancing child-saint Sambandar of 12th century belonging to Chola dynasty,
processional standard [alam], from Hyderabad,
arch for a Jain shrine (11th-12th century), seated Jina, 1163 from Mount Abu region, Rajasthan,
the divine couple Lakshmi and Vishnu [Lakshmi Narayana] (11-12th century), and
Durga Mahisasuramardini, from Gujarat.
Sambandar, also referred to as Thirugnana Sambandar was a Saiva poet-saint of Tamil Nadu who lived sometime in the 7th century CE. He was a contemporary of Appar, another Saiva poet-saint.
He was a child prodigy who lived just 16 years. According to the Tamil Shaiva tradition, he composed an oeuvre of 16,000 hymns in complex meters, of which 383 (384) hymns with 4,181 stanzas have survived.
These narrate an intense loving devotion (bhakti) to the Hindu god Shiva.
The surviving compositions of Sambandar are preserved in the first three volumes of the Tirumurai, and provide a part of the philosophical foundation of Shaiva Siddhanta.