Mughal Gardens Renamed As Amrit Udayan: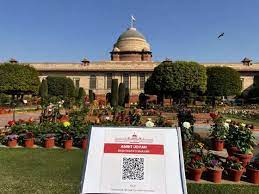 The Central Government has decided to rename the Mughal Gardens inside the Rashtrapati Bhavan as Amrit Udayan.
Features of Mughal gardens:
These are developed in Islamic architectural style by the Mughals in India and other countries.
These gardens are frequently seen as a place for relaxation and meditation.
This gardening design was influenced by Persian, namely the Charbagh structure.
Gardens are formal in style; symmetrically designed in rectangular or square
The garden area is divided into four plots by water channels.
These four channels represent four rivers of life.
The running water provides coolness and freshness to the garden.
The four plots are planted with trees, shrubs, etc.,
Mughal gardens are surrounded by a high, robust wall.
The wall's summit is decorated with serrated battlements.