Quit India Movement Day 2023: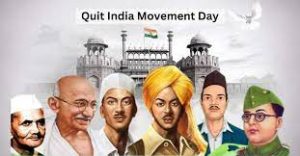 Every year Quit India Day is observed on August 8 to commemorate the occasion. This year marks the 81st anniversary of the event.
The Quit India Movement, also known as the August Movement or Bharat Chodo Andolan, was a significant civil disobedience movement launched by Mahatma Gandhi and the Indian National Congress on August 8, 1942 at Gowalia Tank Maidan also known as August Kranti Maidan in Bombay.
On this day, August 8th, in 1942, Gandhi gave the famous "Do or Die" speech, urging the Indian people to act decisively and nonviolently against British rule.
While factors leading to such a movement had been building up, matters came to a head with the failure of the Cripps
The failure of the Cripps Mission made Gandhi realise that freedom would come only if Indians fought tooth and nail for it.
The movement aimed to demand an end to British colonial rule in India and achieve full independence.
The movement saw widespread protests, strikes and acts of civil disobedience across the country.
People participated in marches, demonstrations, and various forms of nonviolent resistance.
Women played a vital role in the Quit India Movement, displaying immense courage and leadership.