Regional Comprehensive Economic Partnership (RCEP) Pact: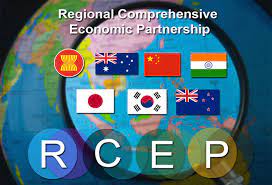 Singapore's Foreign Minister Vivian Balakrishnan recently said that he hoped India would "reassess" its stand on regional trading agreements such as the Regional Comprehensive Economic Partnership (RCEP) pact that India withdrew from in 2019.
India had "a crucial role" to play in helping the region build an inclusive architecture at a time of increasing global instability.
Such trade pacts will also give Indian companies a platform to showcase their strengths across even larger markets.
Besides, Rising U.S.-China tensions were "deeply worrying" for the region with the pandemic resulting in "heightened tension".
RCEP:
The RCEP came into force in November 2020 without India. The signatories of the agreement include 10 ASEAN countries – Singapore, Thailand, Vietnam, Cambodia, Indonesia, Malaysia, Brunei, Laos, Myanmar, and the Philippines and 5 key partners (China, Japan, South Korea, Australia, and New Zealand).
Aims and Objectives of RCEP:
To lower tariffs, open up trade in services, and promote investment to help emerging economies catch up with the rest of the world.
To help reduce costs and time for companies by allowing them to export a product anywhere within the bloc without meeting separate requirements for each country.
It also touches on intellectual property, but will not cover environmental protection and labor rights.
India withdrew from the RCEP largely because of concerns it would open it up to Chinese goods amid an already wide trade imbalance with China, and the failure of the agreement to adequately open up to services.